2023 Intercollegiate Band
Guest Conductor: Dr. Richard Mark Heidel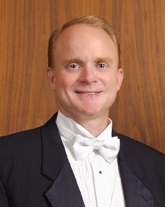 A native of Texas, Heidel holds the Bachelor of Music Education and Master of Music in Conducting from Texas Tech University in Lubbock, Texas as well as the Doctor of Education in Music Education from the University of Illinois at Urbana-Champaign. His principal teachers include James F. Keene, James Sudduth, Gary Smith, Keith Bearden, Donald Schleicher, John Grashel, Eunice Boardman, Richard Tolley, and Michael Ewald. Prior to his appointment to the University of Iowa faculty in 2008, Dr. Heidel served as Director of Bands at the University of Wisconsin-Eau Claire, Shippensburg University of Pennsylvania, and as a teaching assistant in the School of Music at the University of Illinois at Urbana-Champaign. In addition to his university teaching experiences, Heidel taught in Texas for nine years serving as Director of Bands at Muleshoe High School, Levelland High School, and Monterey High School in Lubbock.
Information Letter
Check back soon for more information!
Nomination Form
Please use the form below to nominate your deserving students for the WCBA Intercollegiate Band!