2023 Intercollegiate Band
Guest Conductor: Dr. Richard Mark Heidel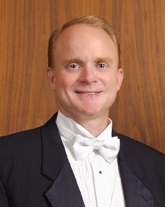 A native of Texas, Heidel holds the Bachelor of Music Education and Master of Music in Conducting from Texas Tech University in Lubbock, Texas as well as the Doctor of Education in Music Education from the University of Illinois at Urbana-Champaign. His principal teachers include James F. Keene, James Sudduth, Gary Smith, Keith Bearden, Donald Schleicher, John Grashel, Eunice Boardman, Richard Tolley, and Michael Ewald. Prior to his appointment to the University of Iowa faculty in 2008, Dr. Heidel served as Director of Bands at the University of Wisconsin-Eau Claire, Shippensburg University of Pennsylvania, and as a teaching assistant in the School of Music at the University of Illinois at Urbana-Champaign. In addition to his university teaching experiences, Heidel taught in Texas for nine years serving as Director of Bands at Muleshoe High School, Levelland High School, and Monterey High School in Lubbock.
Information
On behalf of the Wisconsin Concert Band Association, we invite your college/university band students to apply for the nineteenth annual WCBA Intercollegiate Honors Band. This group is comprised of college/university students from throughout Wisconsin, and will perform at 9:00 pm on Friday, January 20th, 2023 in a featured performance at the WCBA State Conference.
The participation fee for this year will be $20 per student. This fee includes admission to all other conference concerts and clinics. Disclaimer: Should the WCBA Convention/All-State Bands be canceled due to inclement weather, pandemic, or act of God, refunds will not be issued as WCBA is a non-profit organization. The fees cover the non-refundable costs of the convention. Also, if a school or individual participant cancels, no refund will be offered. Please have the fees paid by Saturday, January 7, 2023.
Directors must be current WCBA members and it is expected that you pay the conference registration fee to nominate students for the group.
The selection process for the group is based on student applications as well as director comments and rankings. Each school is guaranteed at least two students, and additional students may also be admitted so please feel free to nominate as many students as you like. Please ensure that the students you are nominating can attend the conference.
TIMELINE
October 14: deadline for applications/nominations
November 1: roster selected, directors notified by email
November 15: music distributed
January 7: all payments due
January 19-20: WCBA Intercollegiate Honors Band at UW Oshkosh

REPERTOIRE
Shimmering Sunshine Kevin Day
Rest Frank Ticheli
Themes from "Green Bushes" Percy Grainger, arr. Daehn
The White Rose March John Philip Sousa, ed. Keith Brion
Kahn Julie Giroux
Certificate
Please download the certificate for your students below.